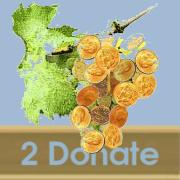 Click here to add this page to your favorites folder!
Merry Christmas and a Happy 2002!!!
Contents:

True love penetrates the body armor

God's Army gains ground

Off the battlefield...

...and into the minefield...

...to build a spiritual hospital

Basic training

Prayer requests.

"It's a wonderful life."

Knowing my past and present experiences (e.g., no heat, no hot water, sleeping on couches for 2 years in order to marry the woman I love) you might consider those words as strange from me as from Jimmy Stewart. However, the message of the film was that "wonderful" described more what he did for others than his own condition. Likewise, we have had a wonderful life in Romania thanks to your generosity and prayers. You rank among my favorite bosses.

"I reap where I have not sowed, and gather where I have not winnowed."---God (Matthew 25:26)

It is said that true love can bend your life in unusual ways; my life is no exception. Four years ago, in part because Aurelia was here, I became a faith missionary and prolonged three-year commitment to Romania. After five years, a ministry planted will continue to bear fruit. These are just some of the praises we have for the Lord:
- The #1 web sites for Italian Christian bookstores (

), Romanian Christian libraries (
), and ethical Romanian missionaries (

) have been established. (Granted, these are not to the scale of Amazon.com, but are still well beyond the most ambitious of our expectations.)
Dozens of children and (according to her testimony) even Aurelia sprouted to new life through seeds that were planted.
With the assistance of Mike Quaranta (LU '85), we developed the Imp e-mail server--the only one I'm aware of in the Romanian language, thus availing monolingual Romanians of e-mail.
I was able to publish articles on justice (www.liv-n-letliv.net/discerningjustice.pdf) and headcovering. (The latter has risen to rank first among a dozen or so on the Internet and hopefully will make headway in clarifying the misunderstandings among the fringe churches!)
God has provided a computer lab for the children at the Valea Iasului hospital. - He has enabled us to repair a bathroom at the hospital.
He provided a summer camp with a partner organization for the children so that they could have fun, hear the Gospel, and see Christians in action. The group reports that dozens of children made decisions for Christ.
Erika is doing well and through a partnership with Greater Europe Mission, she will continue to minister to the children with AIDS.
Once again this was a profitable year for the readers of my Markets Outlook. This year, we gained 17% after a 58% gain last year, while the market lost as much. Over the four years of its lifetime, the stock markets have gained 23% while my recommended stocks have gained over 200%. Even being conservative and assuming that the sixteen subscribers had only $10,000 in stocks, God has allowed me to repay my donors with more than they donated to me! Plus, they got a ministry on top of that! (-; If you have diversified your investment to more than just your house and bank account and would like to benefit, I'm still sending it out on a donation basis. E-mail me at .
In the midst of these successes, planting and watering in the third world have worn on me. Unlike George Bailey, I haven't yelled at a child for mistaken renditions of a Christmas carol. But, I can feel the stress of a decade outside my Italian culture. I am not the life of the party I was. Fortunately, God's Spirit has built a consensus among you that I couldn't have--the strong recommendation that I change my focus from projects to relationships in a more supportive environment. You have suggested this as a better use of my gifting and as means to receive some healing myself. In response, I will be more focused on the ministry that has developed in Italy. This work avails me of more opportunties to:- provide Bible training, - develop the Christian Internet in Europe, - use my formal education to reach the lost, - and ultimately (hopefully) build a ministry team to further develop the work in Romania.

A teen I trained, Iustin, will help me with the
. Erika will continue working with the AIDS children in Timisoara. I will turn more attention to helping Alfred's

by developing the fledgling yet #1 Internet presence.
These words from an old missionary friend working undercover in Italy were not lost on this former Army captain. He made it clear that this new assignment will not be an effortless harvest. It is sad that the most fitting word for the so-called "evangelical" church in Italy and--we both agreed, the Romanian Repenters--is "minefield". God's true Church may be a "maternity ward" of new life or a "hospital" for the war-wounded, but surely not a "minefield"--the most dangerous place on the battlefield. Here, it is a minefield--killing, maiming, and destroying lives. The Repenters are skilled in this art. In Italy and Romania, with only this alternative available to most, there is little motivation to leave the materialistic world or the geriatric ward. My friend affirmed to me that in the same way affiliation with the Repenters hinders ministry in Romania, I must avoid the repenter-like churches of Italy. Thus, this ministry will continue to be among spiritually hungry individuals moved by God's Spirit in southcentral Europe. We continue to rely 100% on your support. If you can help us, please contact me at

.
Nevertheless, this holiday is not Good Friday (a time to talk about suffering and death). Like Frank Capra's movie, this letter has a happy ending. In honor of the Nativity, let me tell you of the new life and ministry that I will nurture in Italy. Just as I helped to build an Army hospital in Italy twelve years ago, I now look forward to building a spiritual hospital in this present minefield.
Our message is plain to all men. You do not need an MDiv to know it. Two thousand years ago, the promised Savior was born, who is Christ the Lord. He is our model, our perfect paradigm, our resurrection and life. The Holy Spirit dwells in all those who are reborn by making Jesus lord of their lives. He bestows new life. This is not just head knowledge but a change in the inclination of the heart. For God's new life gives us the desire to replace sin with love, His Word identifies sin, His Spirit shows us how to live, and His Son's co-seating with the Father gives us the authority over Darkness. And all God's Popolo said, "Gloria a Dio per sempre!"
Prayer requests:


It is so essential that the Popolo gets grounded in the Word of God. As my missionary friend Peter says, "cults are the unpaid debts of the Church." Our debt is to not let this uniquely back-to-the-Christian-basics fellowship go the way of the other cults.


I must raise my support level 10% to sustain married life. My budget is adequate for bachelor living standards, but it irresponsible to raise children without heat, where the proliferation of TB and AIDS are the highest in Europe, etc.


Special fund needs:
-- $1000 to go to the US for missions training required by my boss and for an Italian visa.
-- moving expenses

That I (and eventually Aurelia) will obtain a visa for Italy.


That we will find a colaborer to continue the work at the tuberculosis hospital.Have a very merry Christmas.

Love,
"Lorenzo"