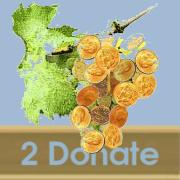 Don't forget to bookmark this page!
Share this page with a friend!
Click here to link to us.


Two Engaged with Three Pre-Marital Counselors, Zero Counseling
Aurelia and I met in the Otopeni Airport in Bucharest. Even our meeting had supernatural overtones. I was 34 and she was 32.
As any two people do, We had Our share of hard times and doubts about the durability of our relationship. But, we stood the test of time and of unethical religious leaders.
About two years into our relationship, we found a counselor who was a pastor named Mike Sindelar. He was a nice guy who distinguished himself by wearing a cowboy hat in Romania. He had us start reading a book that he proposed we study together.
We met for the second time about two weeks later. At that meeting, he shared the gospel with us, using the bridge diagram. Oddly, he didn't include a verse about the requirement of making Jesus lord of one's life (e.g. Luke 2:8-9).
In Romania, there is a great problem between two extremes. On one side, many cheapen God's grace by preaching that only a head knowledge of God and doctrine is necessary for salvation. On the other side are the works based legalistic folks who require certain works like water baptism or the wearing of a headscarf.
We don't think the Bible supports either extreme. Thus, in a non-threatening way, I mentioned to Pastor Sindelar that we include that verse.
He seemed a bit taken aback but raised no objections . We asked him when we could meet again and he said he would be busy for a couple of weeks but assured us he would contact us as soon as he's available. After a month, we called him and he told us to call back in two weeks. We continued to do the studies in the book he gave us. After about three months, he told us that he would not have time to fulfill the commitment he made to us.
Thus, we needed to find a new counselor. In Timisoara, we attended Biserica Baptista Betel, a nice church in the city near the Bega River. Built right around the time of the revolution, it had beautiful marble stairs up to large wooden doors, making it seem a bit out of place in an impoverished country like Romania. To protect its treasures, it was surrounded by a tall black metal fence.
Hundreds of worshippers would flock there on Sundays where they would hear pastor Petrica Dugulescu or visiting pastors and foreigners preach. Pastor Dugulescu, known affectionately as 'Dugu' to close friends, was a man with rather unique contradictions. He was responsible yet good-natured. He was a Parliament Member and a pastor yet humble enough to give it all up to run an orphanage. Dugu was intelligent and open-minded yet in a denomination considered by many to be a cult with little appreciation for these qualities. He was a well-built man with weight to spare. He was a well-educated yet graceful man who had found common ground with most of the Body of Christ, as the Good Book commands. On the first floor of the church, the conservatives had their way. The women sat on the left side of the isle, heads covered by scarves, looking very Middle Eastern. On the right side sat the men, undisturbed by thoughts of their wives. In the balcony sat the liberals, including most of the young, the educated, and the foreigners. Segregated but harmonious.
At our request, they appointed a couple as our counsellors. We had planned to get married in their sanctuary, so it was fitting that we have counsel there. That would assure that there would be no hitch in the way of our getting hitched there.
We started our meetings with this beautiful couple. One meeting passed with them asking us questions to which we responded. Then another meeting passed, with no comment or critique from them. The process seemed to be going smoothly, although we were beginning to feel something was missing, like some areas to work on. Aurelia and I are the kind of people who are constantly trying to improve ourselves and that can't happen without critique.
So, when we made our way back to Timisoara and met with our counsellors, we were determined that we'd either get some critique or we would stop the counseling series. At the end of our session, we said, "So now that we have met three times, what feedback do you have for us?"
The husband responded they thought everything was fine. Trying again we asked, "So, do you any weaknesses or anything we can work on?"
Like it were yesterday, I can remember his answer. "We don't think we should give you any negatives because it might jinx the relationship."
My thought was, "So why are we here?" But polity won out this time and instead I asked a question that would later become very important. "So, you don't have any reservations about approving our marriage to the church?"
He assured us that we have his approval. By now, over a year had passed and we had no serious feedback due to untrustworthy or well-meaning but uneducated church leaders.
The religious leaders had confidence, so we were sure all the religious hurdles to our interfaith marriage were overcome.