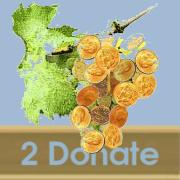 Don't forget to bookmark this page!
Share this page with a friend!
Click here to link to us.



Leaning on the Everlasting Arms: A Devotional
"For thou art the God in whom I take refuge; why hast thou cast me off? Why go I mourning because of the oppression of the enemy?"---Psalm 43:2
"God's grace is sufficient for me - as I live I breath His grace - because it is only by His grace that I can go through this life ... I believe that as you go through life and mature as a Christian you learn to lean more effectively [on the Lord]- Satan hates us and wants to destroy us- he will use any measure to kill our spirit - and because of his evil disposition, he is relentless in his attacks - it is only when we depend on God for our daily existence that we experience true grace - grace is daily and sometimes moment by moment as we face the onslaughts of the devil. Only as we become weak in ourselves can we become strong in His precious grace - His Grace is my ebullience in my darkest hours..." ---Margie McGuire
If you are like me, sometimes you find yourself in a pity party. On my refrigerator, I have written a reminder to myself of the characteristics of God which I have tried to place into 7 categories. One of these I could review each of for the 7 days of the week. It helps me stay balanced in my concept of God. Sunday's reminder is: "God is my healer. Wounds are inherent in this world. There are always people more wounded than I am so I shall not whine. In Jesus, God has satisfied divine justice and offers spiritual liberation and adoption to me as His child."
When we are in the early and intermediate stages of our growth, when God knows our faith is still tender, God will respond in mighty ways. He will never allow us to lose our faith because of Satan's assaults. (I Corinthians 10:13) Do you have a pain that has been dwelling in your heart for a long time? Picture Christ coming up to you and taking the pain from you in His hands. Next, picture Him embracing you and rubbing warm anointing oil on that part of your heart that hurts so much.---ljl
"In every pang that rends the heart,
The man of Sorrows has a part."---John Henry Jowett
If you would like to receive similar devotionals a couple of times a week,


me at

!
Aramus Crane 1999
---